Sightseeing
on and around Chao Phraya River
Chao Phraya River is in the heart of the city of Bangkok, nearby are many interesting examples of real Thai life for those interested in the culture of the region.
Major tourist sites
Temple of Dawn (Wat Arun) - Located right on the river like many famous temples in Bangkok the Temple of Dawn is visible from the Tha Tian pier on the other side of the river. To reach the temple itself Tha Tian - Wat Arung Ferry which leaves from the same pier and goes straight across Chao Phraya in just a few minutes.
Wichai Prasit Fort - The old Palace fort connected to the Royal Thai Naval headquarters this is an impressive building, and right next to Wat Arun.
Chinatown - Located on and around Yaowarat Road, particularly on the Soi Wanit 1, this colourful part of Bangkok shows how Chinese life has been integrated with Thai to create a vibrant fusion. Except food and shopping as well as bright lights at night. Get off at Ratchawong for the closest Express Boat pier to Chinatown.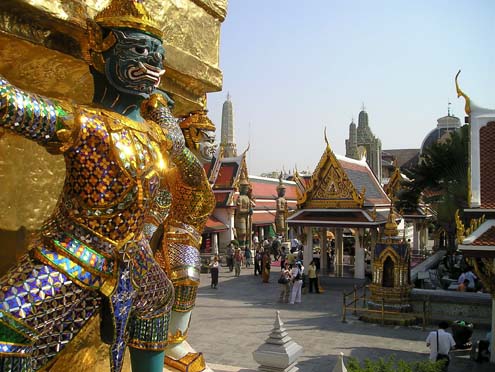 Grand Palace – Accessible from Tha Tien Express Boat pier this is the must see of any trip to Bangkok, located on the river it has magnificent views as well as amazing architecture and treasures to view.
Rama VIII Bridge - A modern bridge over the river the Rama VIII (or Rama 8) bridge is accessible via the Express Boat stop Wisut Kasat Pier
Also along the river

Bang Krachao – Known as the Green Lung of Bangkok this green area is actually created by a meander of the river, and is now really and island due to the short-cut canal, or Klong, called Latpho Canal. It is the site of the Bangnamphung Floating Market and the Si Nakhon Khuean Khan Botanical Park.

Latpho Canal - This canal was started at the suggestion of His Majesty the King and was completed in 2005, and visited by him on an official boat trip in 2010. Flood gates are used to control the flow of the river at this point.
River Cruises
Several companies offer cruises on the river, either just to see the sights of the city, or to explore the upper reaches, often to visit some of the interesting historic sites above Bangkok on the river. There are also night time cruises to enjoy the lights, which are often part of a dinner cruise to combine authentic Thai cuisine with sightseeing.
Eating, and shopping, on the river is a traditional Thai activity as can be seen by the continuing popularity of Floating Markets, and Chao Phraya River Dinner Cruises bring that tradition into the modern age for visitors to Thailand to enjoy.