River
Location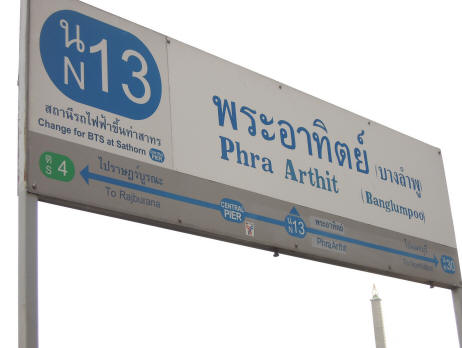 The Chao Phraya River runs through the heart of Bangkok and is always near by. If you wish to ride the river for the experience, or to get to many of the locations best reached by boat, or simply to take the views, then ask at your hotel for the nearest pier.
Some of the best views, seeing across the river to the Grand Palace, are from the Wang Lang (Siriraj) Chao Phrava Express Boat Pier. Take a taxi to Thanon Phran Nok, just ask for the Wang Lang Plaza and then walk towards the river.
Many of the major hotels and tourists attractions in Bangkok are actually along the river itself. From the Grand Palace to The Peninsular Hotel Bangkok you'll find these on the river banks.
From Sukhumvit Road
Many hotels and major tourist shopping locations are on Sukhumvit Road, and from there to visit the river there are several choices. The river itself is roughly parallel in course to that of the road, and Sukhumvit is a long road, so if you are in the north west perhaps staying at the Sheraton Grande Sukhumvit Hotel, then you are closest good viewing place is the park outside Wat Ratchaburana Ratchaworawihan. You can take a bus to the Saphan Phut station to reach the park.
From the Airport
Outside the Don Mueang International Airport take the bus, from near the airport railway station, the number 29 Bus towards Hua Lamphong Railway station is the correct one to get.
Don't go all the way on the bus though as it is a long trip, instead get off near the Chatuchak Park, which is itself an interesting place to visit, and change to the MRT. This is the subway or underground railway, and you should take Direction: MRT Hua Lamphong Station.
Then take the MRT as far south as the Hua Lamphong Station, and you are just about 1km from the river, but can walk along the banks of a canal all the way to the river!